Magazine media qualifying verified circulation
Executive Summary and Total Circulation By Issue Sections
Verified circulation is disclosed as a total average for the reporting period as well as broken down issue by issue. Verified circulation appears under the umbrella of "Verified Subscriptions with further breakdown between Verified Print and/or Verified Digital subscriptions." Note: All types of verified circulation require at least a minimum of two consecutive issues of service.
If the magazine claims any rate base or guarantee to advertisers, this rate base is displayed in the executive summary portion of AAM documents. In situations where a publisher elects to make a rate base claim for a segment of circulation, such as paid only or verified only, then the notes paragraph may provide this additional disclosure. See also Rule F 11.1/F 111.1 Advertising Rate Base or Circulation Guarantee.


Supplemental Analysis of Average Circulation Section
The Supplemental Analysis of Average Circulation Section delineates the total average public place versus the total average individual use verified circulation for the reporting period.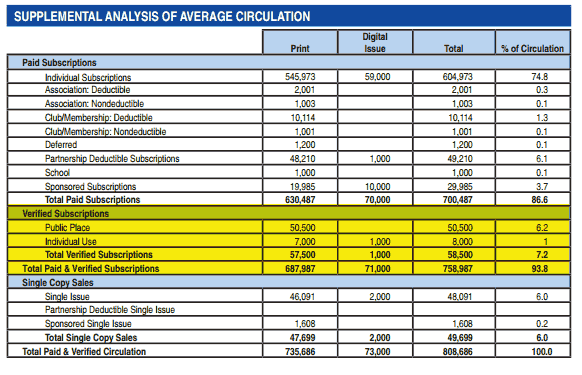 Additional Analysis of Verified
The Additional Analysis of Verified section discloses the total average verified circulation by source for both public place and individual use, as well as the total average circulation for the five distribution locations that generated the highest volume per category. The remaining verified public place and/or individual use circulation appears under Public Place Other and/or Individual Use Other.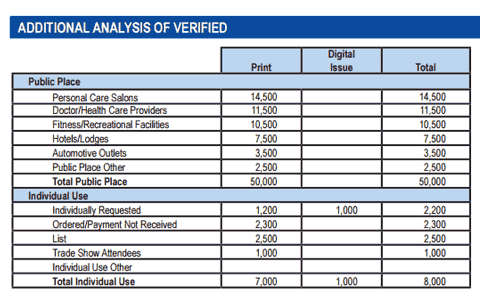 The source categories appearing in the Additional Analysis Section, must be those available from a standardized source listing issued by AAM. Publishers should consult this online listing when assigning codes for AAM recordkeeping purposes.
Publishers wishing to provide a more detailed disclosure of their verified circulation may do so. The publication should contact AAM to discuss their specific intentions for additional disclosure.
Notes Section (optional payment disclosure)
Verified circulation is not subject to Rule F 1.1/F 101.1 Paid Circulation Defined. However, in the notes section of AAM publisher's statements, publications have the option to disclose any payments received from a sponsor for verified circulation, provided the payment reported is net of all considerations. Adequate records must be in place to verify the transaction.