A closer look at the numbers reported in the Prices paragraph on magazine publisher's statements.
AAM magazine statements contain a paragraph titled Prices that informs media buyers as to what consumers pay for a publication. Let's take a closer look at the single copy and subscription price points in this paragraph and the meaning behind some of these numbers.

The example above depicts a typical magazine statement pricing paragraph. The columns differentiate two types of pricing:
1. Suggested Retail Prices are those decided by the publisher. These include:
Average Single Copy

, which is the publisher's average suggested newsstand price over the six-month reporting period and

Subscription, which is the publisher's suggested one-year price for the six-month reporting period.
2. Average Price is divided into two types: Gross, which is optional, and Net, which is mandatory for publications that serve individual subscriptions. Net Average Price represents the net price per subscription that is paid by the end consumer, deducting the value of any premiums and subscriptions that were cancelled for nonpayment. The period represented by this figure is for the previous 12-month publisher's statement period. For instance, the June 30, 2018, publisher's statement reflects the average price for the 12 months ended December 31, 2017.
Pricing information can also be accessed by using the Periodical Analyzer in AAM's Media Intelligence Center. After selecting the titles you wish to analyze, click the Analyze Data button and select Periodical Analyzer from the row of tabs. Then select the Prices report from under the Circulation Analyses heading.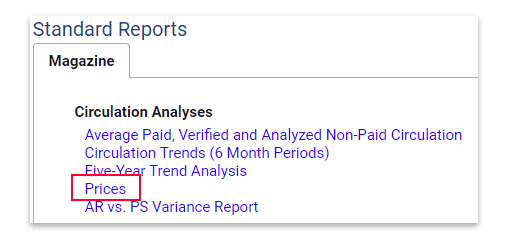 After selecting your column headers, the final report features the following columns whose numbers match the ones in the statement paragraph.

For more in-depth information about Average Price, please visit the article Reporting of Average Price.