Where to find AAM ZIP code distribution data and how each format might be useful.
Distribution by ZIP code is one of the most sought-after datasets for media buyers. Whether used to research a new market for a grand opening or to tweak the reach of an existing campaign, newspaper ZIP code data helps marketers target the right audience for their message.
AAM's Media Intelligence Center houses ZIP code data in two areas: AAM's News Media Analyzer and the Distribution Map in Brand View.
Here's a brief overview of the differences between these formats and where to locate each.
News Media Analyzer
AAM's News Media Analyzer gives users access to circulation data for most AAM news media clients across the United States. This powerful tool helps media buyers perform in-depth analyses and drill down to the data they find most valuable.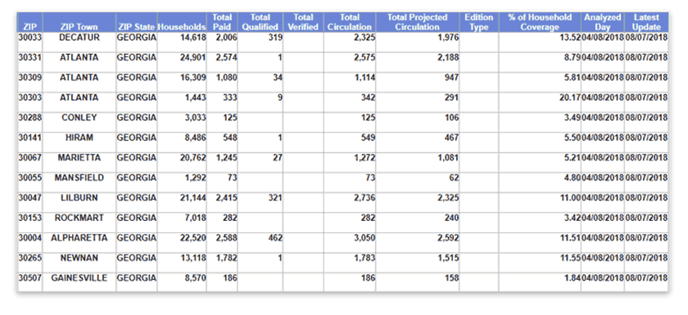 Access the News Media Analyzer for ZIP code data when:
You want to find the most recent ZIP code data
You need data that can be downloaded into Excel and easily sorted and filtered
You want to compare and analyze data from multiple publications
You want to include historical data in your analysis
If you're looking for a visual representation of a publication's most recently-reported ZIP code distribution, the Distribution Map is a great option.
Distribution Map
The Distribution Map displays newspaper ZIP code data in an easy-to-use heat map. This tool is available in the profiles of U.S. news media clients and can be accessed through the Media Intelligence Center or via a custom URL that can be shared with anyone.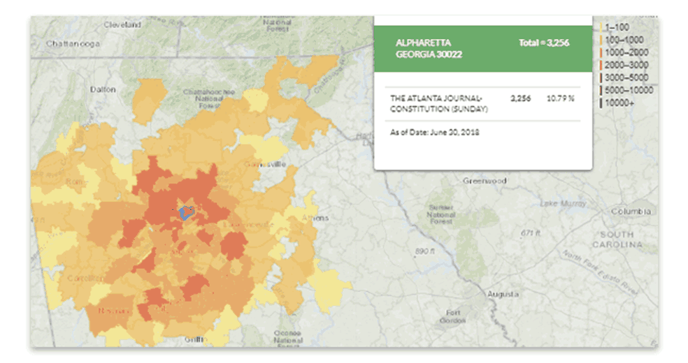 Use the Distribution Map to access ZIP code data when:
You need a quick visual of circulation or household coverage without having to sort through large datasets
You want an interactive, visual representation of a publication's most recent distribution that can be clicked, filtered, exported and saved

Need more information? Visit the Media Intelligence Center Help section of this support center, send us your questions or request a customized training session.