View trending data for magazines across the U.S. and Canada.
Step 1: Select magazines
After logging in to the Media Intelligence Center, use the filter menu in the left-side navigation to select the magazines you'd like to include in your analysis and choose Analyze Data.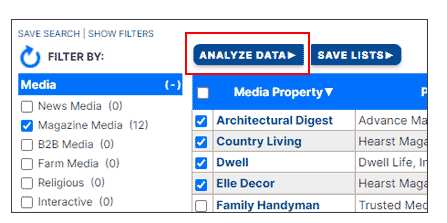 Step 2: Access the Periodical Analyzer
On the next screen, select the Periodical Analyzer tab.

Step 3: Access magazine trends
Now scroll down until you see the Circulation Analyses heading and select the report you wish to view. For this example, we selected Five-Year Trend Analysis.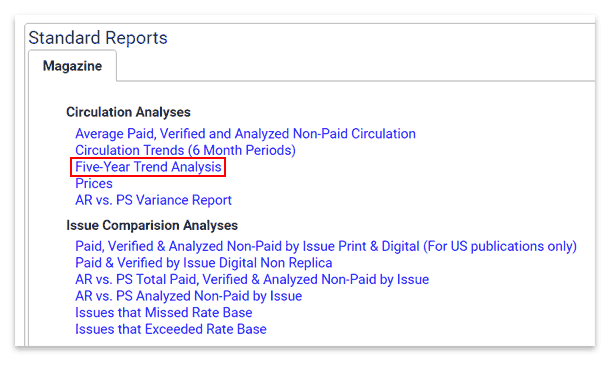 Step 4: Select data elements
The next screen provides a list of data elements available for this report. Select the information you'd like included in your customized report or Select All and click Submit.
Step 5: Customize the output
Tailor the report to fit your needs using the Periodical Analyzer's dynamic interface. When you're satisfied, download your custom analysis by selecting the Export button. Your report is available in Excel, PDF, PowerPoint, Word or CSV.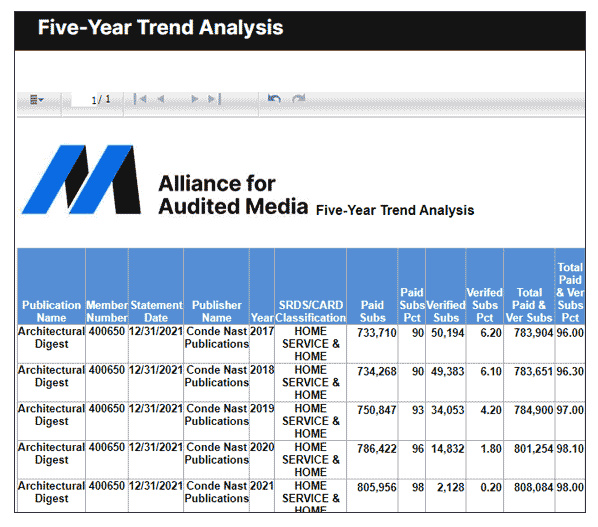 Other Reports Related to Magazine Trends
The Periodical Analyzer tool is a great place to go if you're looking for other reports that were historically included in AAM's Magazine Trend Report. Here you can find:
Rate Base

Post Expiration Copies

General Circulation Analyses