Business media qualifying digital distribution
Mid-term conversions from print-only to digital version/edition may be completed at the publisher's discretion provided the subscriber can opt-out of the conversion and retain the print subscription or terminate the subscription altogether.
The label "digital" on AAM reports will be used to describe all copies distributed via electronic or paperless means, inclusive of both digital versions and digital editions.
Nonpaid Multi-Copy Same Addressee digital editions are not eligible for inclusion as qualified circulation on AAM reports.
All digital delivery is reported separately in AAM reports utilizing the following formats: (Average Paid, Qualified Nonpaid, Nonqualified Circulation; Issue by Issue; Business Occupational Analysis; Age of Source; Mailing Address Analysis; Geographic Analysis; Prices; Term Data; Sales Channels; and Premium Usage.)

Print only
Digital only
Print and digital (unduplicated)
Total

Paid Digital Multi Copy Sales: Paid Digital Multi-Copy Sales and license agreements will be reported under paid circulation as Multi-Copy Same Addressee-Digital in AAM reports, provided the purchaser paid at least one cent per each subscription.
Geographic Analysis: Digital version/edition subscribers are required to provide a land address for reporting purposes in the Geographic Analysis section. However, should a digital version/edition subscriber fail to provide a useable land address, the subscriber will be reported as Email Address Only, but would not be subject to the 5 percent limit for unclassified distribution as stated in Rule D 5.1 (d)/D105.1 (d) Geographic Analysis.
Digital Nonreplica: Reporting of digital nonreplica is considered a separate edition and must be broken out in the Regional Demographic section for AAM reporting.
Average Qualified Paid Circulation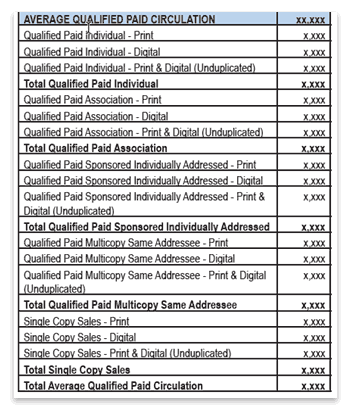 Categories:
Individual Print
Individual Digital Only
Individual Print & Digital (Unduplicated)
Association Print
Association Digital
Sponsored Individually -Addressed Print
Sponsored Individually -Addressed Digital
Multi-Copy Same Addressee-Print
Multi-Copy Same Addressee-Digital
Single Copy Print
Single Copy Digital
Average Qualified Nonpaid Circulation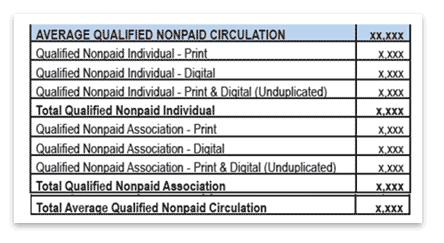 Categories:
Individual Print
Individual Digital Only
Individual Print & Digital (Unduplicated)
Association Print
Association Digital
Average Nonqualified Circulation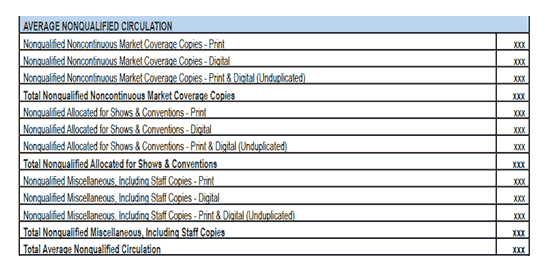 Categories:
Noncontinuous Market Coverage Copies- Print
Noncontinuous Market Coverage Copies- Digital
Allocated For Shows & Conventions-Print
Allocated For Shows & Conventions-Digital
Miscellaneous, Including Staff Copies-Print
Miscellaneous, Including Staff Copies-Digital
Issue by Issue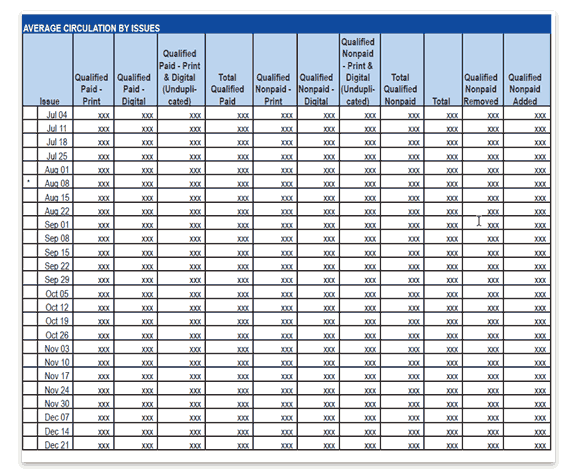 Categories:
Print
Digital Only
Print & Digital (Unduplicated)
Business Occupational Analysis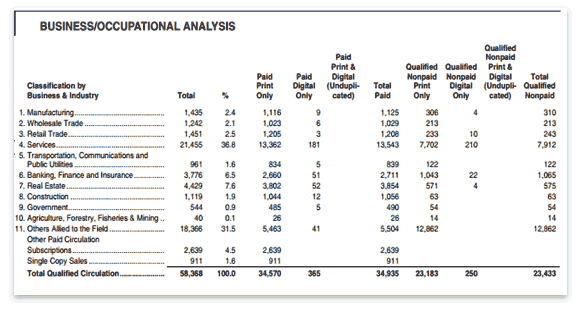 Categories:
Print
Digital Only
Print & Digital (Unduplicated)
Age of Source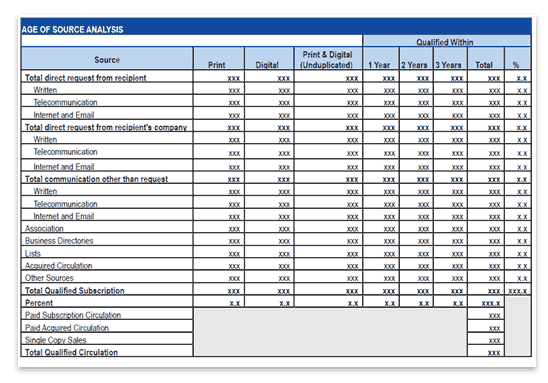 Categories:
Print
Digital Only
Print & Digital (Unduplicated)
Mailing Address Analysis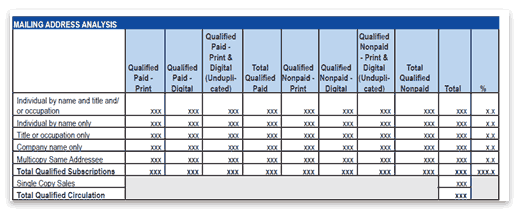 Categories:
Print
Digital Only
Print & Digital (Unduplicated)
Geographic Analysis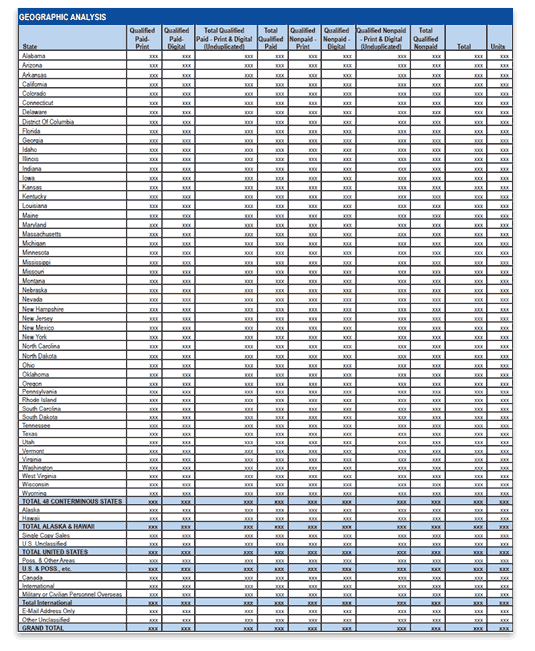 Categories:
Print
Digital Only
Print & Digital (Unduplicated)
Analysis of the Sales of Total New and Renewal Subscriptions (Price, Term Sales & Channels, & Premium Usage)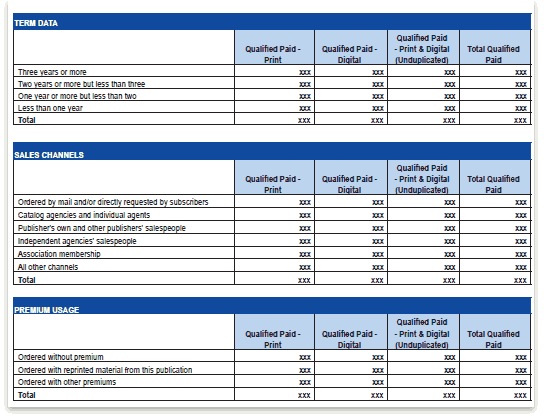 Categories:
Print
Digital Only
Print & Digital (Unduplicated)