Magazine media paid promotional programs
Related rules: F 8.5/108.5
Programs where a consumer may purchase a magazine subscription by redeeming accrue award points, in lieu of cash. Common award point/loyalty programs include frequent flyer programs, credit card programs, and programs where consumers are provided points for participating in surveys and other similar activities. Below are the main qualifications for AAM reporting.
Program Registration
Programs must have an enrollment process or an agreement to participant.
Points Qualifications
Each point must have a monetary value.
Items offered for purchase must have a stated value in points or dollars and be consistent across available items.
The consumer must be informed of the actions necessary to earn points, including volume of points for each activity.
The consumer must be made aware of all items that may be obtained with redemption points.
The consumer's account status must be accessible on a regular basis with accrued points available for future redemption.
Subscription Price:
A subscription purchased with award points must be at least one cent, net of all considerations.
The price paid for the subscription is determined by the following: per-point value X number of points required for the magazine subscription. (In the example below: $0.01 x 2,000 = $20)
Publisher must provide documentation of the transaction for AAM audit.
Note: Any offering including magazines must include a mixture of similarly valued retail products.
Example
FlyABC is a loyalty program that rewards members for booking ABC Airline flights, and making reservations at sponsored ABC Airlines hotels and car rentals through the FlyABC mobile app.
Registration Process: Customers download the FlyABC app from their preferred app store. Points are not accrued for the registration process.
Enrollment Confirmation: After registration, customers receive confirmation emails and codes to activate the app. Upon completion, customers receive 50,000 points.
Point Value:
1 point = $0.01
Points do not expire
The Offer
Redeem your FlyABC rewards:
Prototype Magazine: 1-year subscription (6 Issues)
Retail Price: = $20.00
FlyABC Reward Points: = 2,000
Shipping: = $0.00
You Pay: = $0.00
Quantity = 1
___ Yes, add to shopping cart and check out.
AAM Reporting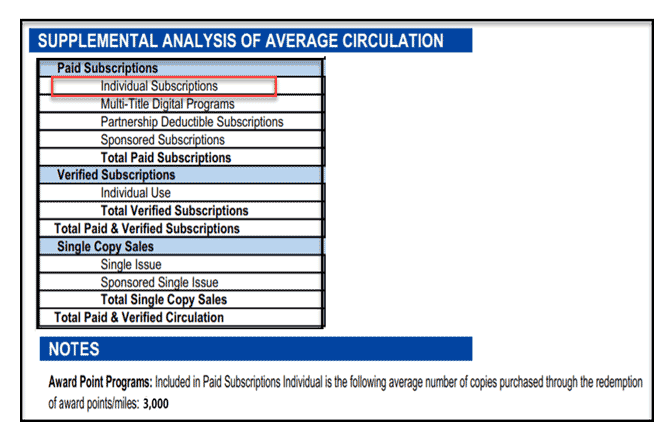 Subscriptions obtained through the redemption of award points are reported as individual subscriptions under paid subscriptions.

The average number of copies served is disclosed in the notes section with the following message: Included in paid subscriptions Individual are the average number of copies purchased through the redemption of award points/miles: _____