Qualifying magazine copies distributed for free at events or retail locations.
Nonpaid bulk circulation represents copies delivered to designated locations for redistribution to recipients unknown to the publisher. Examples of nonpaid bulk include copies distributed at events such as bridal, travel, or auto shows, or available for free pick up at retail locations and public racks. Below are the key qualification requirements for analyzed nonpaid bulk.

Requirements
Distributed to designated locations
Available for pick up by individuals
Must be the current issue (back copies not permitted)
Maintain records on an issue-by-issue basis to show gross distribution
AAM reports will show copies distributed to designated areas but will make no reference to their final placement
Note: Qualification of digital analyzed nonpaid bulk is based on recipient's access of the digital edition.
Publisher's Statement Reporting Example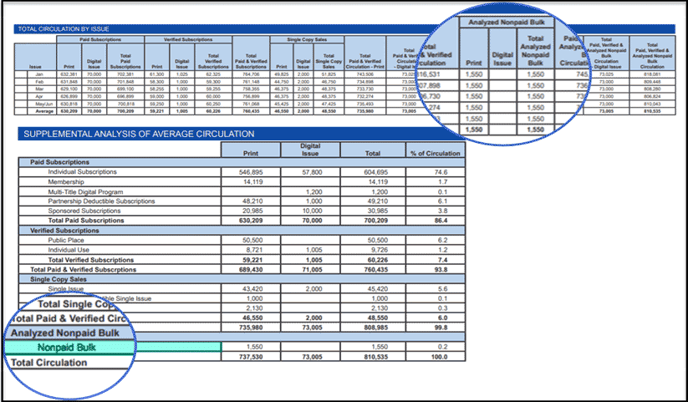 Documentation for Audit
The records necessary for the AAM audit of analyzed nonpaid bulk circulation include, but are not limited to:
Proof that copies were printed: may include print orders, printer's invoices, and proof of payments to printer.
The shipping or distribution documents from a recognized independent organization (i.e., UPS, FedEx, USPS, DHL, etc.) are available for review by AAM.
In the absence of shipping documentation from a recognized independent organization, field work is necessary to validate delivery and availability of copies claimed as analyzed nonpaid bulk.
Maintained route list of bulk distribution that included dates and delivery times, locations, quantities per location or route, and restocking process/policy.