View top-line magazine media data in five easy steps.
Snapshot reports featuring AAM's magazine clients are published twice a year for the six-months ending June 30 and December 31. All magazines that submit data by the filing deadline have their topline information disclosed in this report. The data points included in this report per publication are: average single-copy price, number of issues in period, six-month average paid, verified, single-copy sales and analyzed nonpaid distribution for both print and digital. This report is easily accessible to all AAM clients via Excel.
To access the magazine media Snapshot report:
1. Log into the Media Intelligence Center by selecting it in the Log In drop-down menu. If you are unsure of your login credentials, please contact AAM.

2. Near the top of the Media Intelligence Center home page, select Reports & Tools and click on Magazine Snapshot.
3. For the latest released Snapshot, click on the Snapshot link.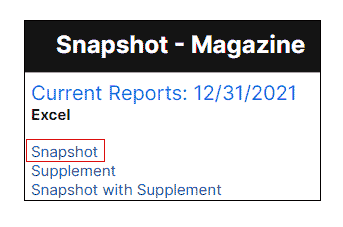 4. For previous Snapshot reports, select the preferred Snapshot period and format under Archived Reports.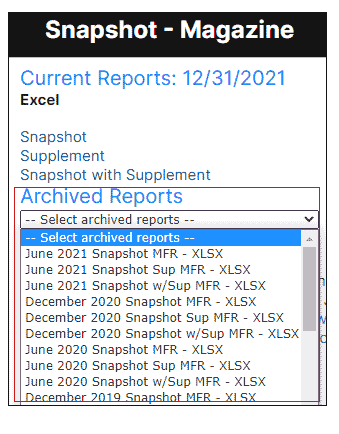 5. For those magazine clients that filed within a week of the original deadline, a supplemental report is issued. The supplemental report is accessed the same way as Snapshot, just select Supplement or Snapshot with Supplement from the current reports listing.