September 2020/March 2021 news media reporting category map
An outline of how circulation categories will be reported in September 2020 and March 2021.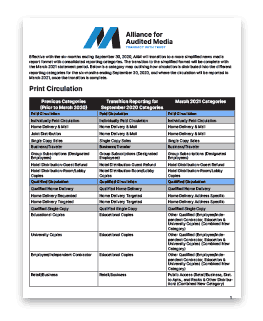 Effective with the six-months ending September 30, 2020, AAM will transition to a more simplified news media report format with consolidated reporting categories. The transition to the simplified format will be complete with the March 2021 statement period. Click on the image to the right to view a category map outlining how circulation is distributed into the different reporting categories for the six-months ending September 30, 2020 and where the circulation will be reported in March 2021, once the transition is complete.