A walkthrough of June and December ZIP code data submission.
News media publications file a full set of data for the six-month periods ending in March and September. Visit this article for an overview of March and September statement filing. U.S. publications also file ZIP code data quarterly, alongside the six-month data for March and September quarters and separately for June and December quarters. This guide explains the steps to file quarterly ZIP code information for the June and December quarters.
Filing Due Dates for June and December Quarterly ZIP Code Data


Filing Period
Due Date
Notes
June quarterly ZIP codes (U.S. only)

Dailies - July 15

Weeklies/CNA – July 20
Includes ZIP code and total quarterly net average for print and digital.
December quarterly ZIP codes (U.S. only)

Dailies - Jan 15

Weeklies/CNA – Jan 20
Includes ZIP code and total quarterly net average for print and digital.
Note: If the due date falls on a weekend day, the data is due the following business day.
Accessing AAM's News Media Filing Tool
Visit auditedmedia.com and click Log In. Select Publisher Filing Center and enter your publication's log in credentials. Then select File Circulation Claims from the right-hand menu.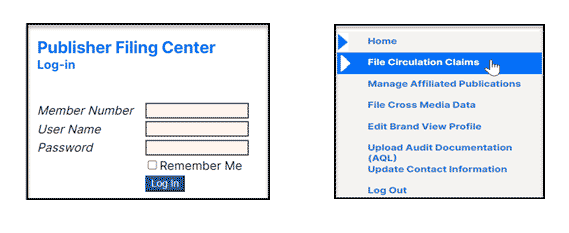 Notes:
When entering your member number, do not include the initial "0" or dashes. For example, if your member number is 01-234-56, please enter 123456.
If you have questions or cannot remember your password, please contact AAM at 224-366-6339.
Sections of the News Media Filing Tool
The three sections you will use for quarterly ZIP code filing are: Filing Questionnaire, Enter Circulation Data, and ZIP code (Para 3 - U.S. only).

Note: You may also add your cross-media data and update your Brand View profile in AAM's news media filing tool. For more information, please view the cross-media and Brand View filing guides.
Section 1: Filing Questionnaire
In the Main Edition Pub Plan section, use the red calendar box to select any nonpublishing and omitted days.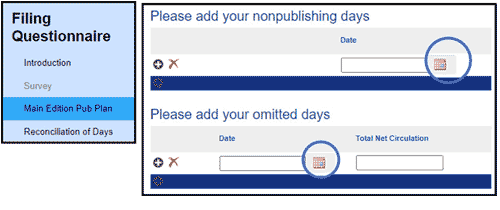 On the Reconciliation of Days page, verify that the net publishing days match your circulation records. If not, return to the Main Edition Pub Plan section to revise.

Section 2: Enter Circulation Data
On the Circulation Data page, enter your total net print and digital circulation data by frequency for your main publication and any affiliated publications. Returns must be deducted from the total net figure.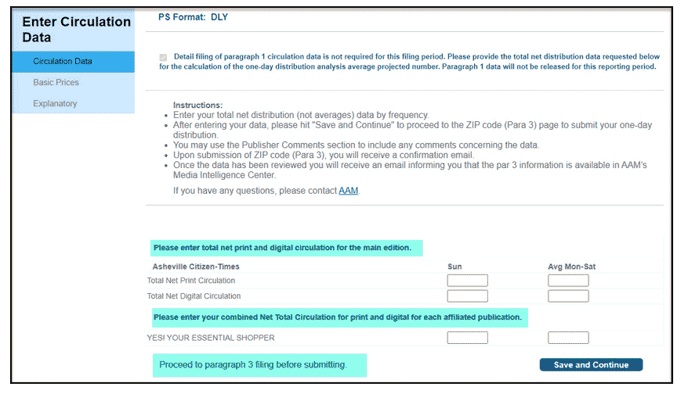 Note: Quarterly circulation data is not released to the Media Intelligence Center. It is used to calculate the one-day distribution analysis average projected number for the ZIP code comparison of one-day distribution versus quarterly net distribution.
Section 3: ZIP Code (Para 3)
Here you will file ZIP code data for a representative day (Monday - Friday) and Sunday for the main edition and any affiliated publications. Saturday reporting is optional unless your publication is Saturday only.
Note: Your ZIP code (Para 3) can be gross sales with single-copy returns included.
If you are entering ZIP code data for the first time, select the Add New One-Data Distribution button. Otherwise, select Edit to revise your ZIP code data.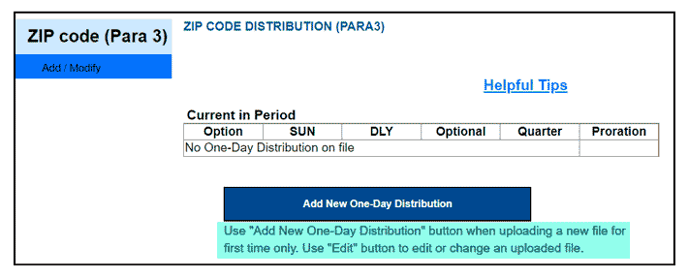 Paragraph 3 Survey
Question 1: What are the One-Day Distribution dates for the primary newspaper?
Select a representative Sunday and weekday date during the quarter for ZIP code reporting. If you upload a ZIP code file, the code entered in the Pub Code field must match your file. Otherwise, enter the initials of your publication.
Question 2: Circulation Categories
Distribution by ZIP code is reported under Total Paid or Total Qualified. Digital replica and nonreplica are reported within either of the two categories. View this chart for a listing of common circulation labels and how they translate to AAM reports and data.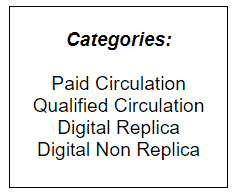 Question 3: Affiliated Publications (If applicable)
Select the same Sunday and weekday dates you chose for the main publication. If affiliated publication frequencies differ from the main publication, select dates that are near those selected for the main edition.
Question 4: ZIP Code data may either be entered on the ZIP Code Data Entry tab or uploaded
If you have multiple pages of data, we recommend uploading your ZIP code data. Please view the specifications to ensure your file upload is formatted correctly. Digital edition totals must be entered manually.
Question 5: You are eligible to prorate. Do you want to prorate?
AAM offers the option of prorating ZIP code data to save you valuable time. If you choose to prorate your data, AAM will use the data you filed on the Circulation Data page and the last actual released ZIP code report to prorate your current ZIP code distribution.
All U.S. publications are eligible to prorate their ZIP code data if:
No new circulation categories were added since your last released ZIP code report.
No new affiliated publications were added since your last released ZIP code report.
At least one reporting quarter during the audit period has been based on actual data.
Para 3 ZIP Code Survey: Circulation Record
Click the Circulation Record button to report your distribution by applicable Total Paid, Total Qualified, Total Digital Replica and/or Total Digital Nonreplica for the specific ZIP code reporting day.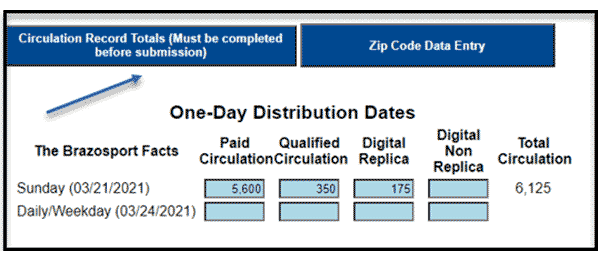 Notes:
ZIP code reporting can include gross sales (returns included).
The Circulation Record Totals should match the totals in the ZIP code tab and show zero differences.
Para 3 ZIP Code Survey: ZIP Code Data Entry
Click the ZIP Code Data Entry button to file your distribution by ZIP code for the paragraph 3 dates selected.

If you answered "Yes" to the survey proration question, click the Calculate Proration button. After entering your data, you can click Export to Excel to save a copy for your files.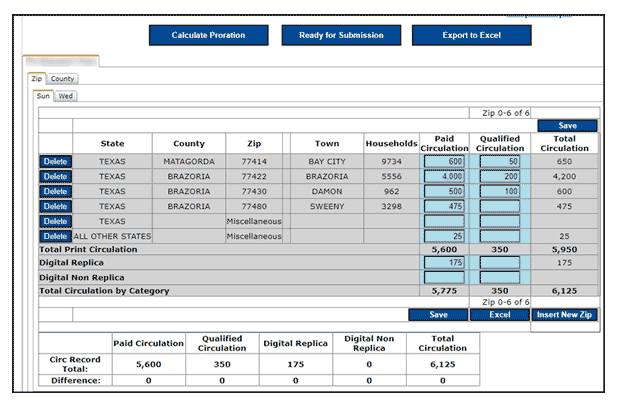 Data Entry Tips:
ZIP codes are prepopulated based on the previously released ZIP code report.
You can modify ZIP codes with the insert/delete buttons.
ZIP codes with distribution of fewer than 25 copies can be reported under Miscellaneous ZIP codes.
Digital copies are reported in total only and not by ZIP code.
The Circulation Record Totals and ZIP code totals should match.
ZIP Code Data Submission
Once you have completed and reviewed your paragraph 3 data, select the Ready for Submission button.


Your quarterly ZIP code data will be released to AAM's Media Intelligence Center accessible in the Newspaper Analyzer.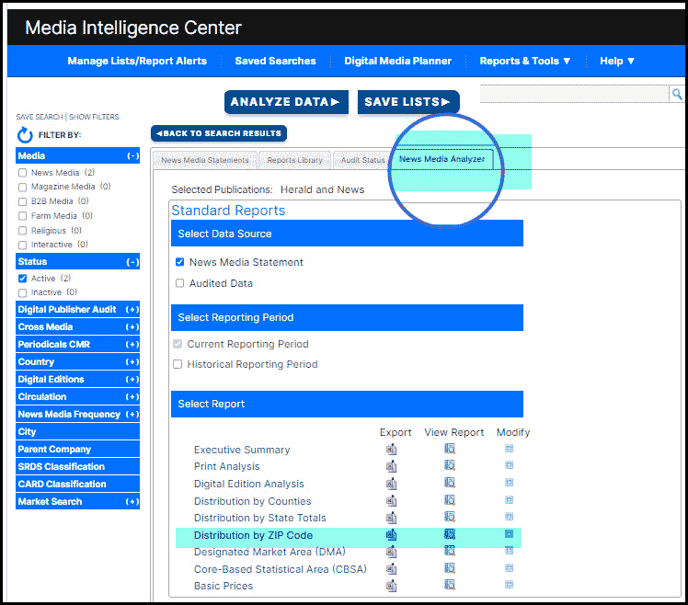 For questions or additional information, please contact AAM.
Webinar: Tips to File Your Quarterly ZIP Code Data