Spread the word about your media brand with these tips.
AAM Brand View is an exceptional client benefit that helps promote your AAM-verified data along with promotional text, images and video to tell your total brand story. Activated Brand View profiles appear in the Media Intelligence Center when a user clicks on your publication's title. (If you haven't activated your Brand View profile yet, here's how to get started.)
One of the most-used benefits of Brand View is a customized link that allows clients and other stakeholders to view your profile at any time, without logging in to the Media Intelligence Center. Here are some ideas on how to spread the word.
1. Email Signature
Email signatures are ubiquitous but still offer a valuable way to communicate a message. Consider adding a link to your Brand View profile with your contact info to give your contacts new insight into your media brand. We've mocked up a couple of examples to get the ideas flowing.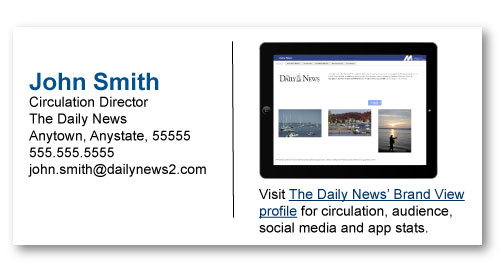 2. Media Kit
Provide additional stats to online media kit visitors and show that you're AAM audited by linking to your Brand View profile. Together, your media kit and Brand View provide media buyers with ample information to make informed buying decisions.
3. Social Media
Include a link to your Brand View profile in your company profile or about page on LinkedIn, Facebook, Twitter, Instagram, YouTube and Pinterest. Remember to share a link when you update your profile or new data is released, too.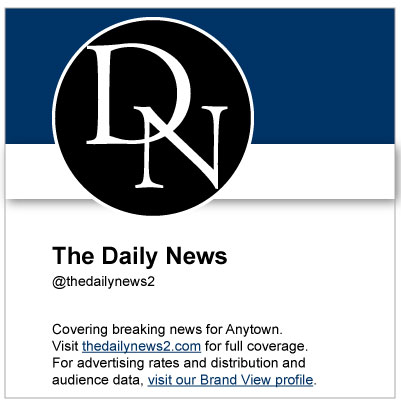 These suggestions are just a few possibilities to share your Brand View profile. The bottom line is your Brand View profile is yours to share, so let advertisers know you provide this crucial AAM-verified information.
Tip: When promoting your Brand View profile, we suggest using promotional content as linking text to your Brand View profile. After you've logged in to the Media Intelligence Center and copied the URL from your Brand View profile, follow the example below to learn how to link text in Microsoft Outlook or Word.