Highlights and quick tips to navigate the news media filing tool.
With the advent of the news media simplification project, filing requirements have changed to the following:
Six months ending September 2020 and March 2021: File six-month distribution averages and one-day ZIP code distribution detail.
June 2020 and December 2020 quarters: File one-day ZIP code distribution detail only.
AAM's news media filing tool has been updated to accommodate these changes. Please follow these instructions for entering your September 2020 and March 2021 data.
Accessing AAM's News Media Filing Tool
At auditedmedia.com, click Log In , select Publisher Filing Center and enter your publication's log in credentials.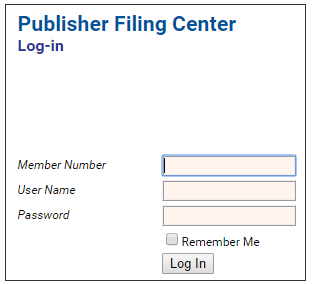 Notes:
When entering your member number, do not include the initial "0" or dashes. For example, if your member number is 01-234-56, please enter 123456.
If you have questions or cannot remember your password, please contact AAM at 224-366-6339.
Navigation Short Cuts
Save Commands: The Save and Save and Continue buttons are located at the bottom of each page in the filing tool.

Tab Key/Mouse: Use your Tab key or mouse (not the Enter key) to navigate to the next field.

: Deletes a field or row.

: Adds a field or row.

: Provides a calendar interface to select dates
Sections of the News Media Filing Tool
The four sections of the filing tool include: Filing Questionnaire, Enter Circulation Data, ZIP code (Para 3) and Review and Submit.

Section 1: Filing Questionnaire
This section includes your publishing plan and contact information. It must be completed first, as the information you enter here informs the other sections.
a. INTRODUCTION
Provides a preview of the filing tool and links to helpful resources.
b. SURVEY
In the survey section you declare the following:
Circulation types (i.e., print, digital replica, digital nonreplica)
Contact information
General publishing plan
Tips:
Only the checked categories display in the applicable filing tool sections.

The contact information is prepopulated based on your previous filing.
c. MAIN/AFFILIATED EDITION PUBLISHING PLAN
Review the following for both the main edition and any applicable affiliated publications:
Reporting averages dates
Publishing plan (frequencies)
Nonpublishing days
Omitted days
Tips:
Click the calendar icon to change the reporting start or end date.

Click the plus icon and use the calendar icon to add nonpublishing/omitted day(s).

Please contact AAM if your publishing plan frequencies for either the main edition or affiliated publications have changed.
d. RECONCILIATION OF DAYS
This section is calculated for you and is for your review only. Click on the publication name to expand the reconciliation of days section for review. If the reconciliation of days does not agree with your circulation records, go back to the Main Edition/Affiliated Pub Plan sections to revise.

Section 2: Enter Circulation Data
This section is for reporting your circulation claims for the statement period by distribution type and frequency, as well as basic prices and general explanatory.
a. PARAGRAPH 1
Enter your circulation claims by distribution type per frequency for your main edition as well as any applicable affilated publications.
Note: Effective with the September 2020 period, news media reporting includes Total Paid and Total Qualified circulation. Total Verified is now included in the Total Qualified category. Click here for additional information.
Tips:
Report net (returns deducted from single-copy sales) circulation, not averages. The tool will automatically calculate averages.
If the data entry section is missing or appears in error, go back to the Survey section and revise your responses.
Click View Totals to view subtotals.

b. BASIC PRICES
Effective with March 2021 filing, basic prices have been simplified to report single-copy prices only.
c. EXPLANATORY
Report the following:
Frequency
Applicable nonpublishing days
Applicable omitted days
Other applicable general explanatories (choose in the drop-down menu in this section)
Nonpublishing/omitted days are prepopulated based on the entries made in the Survey section.
Tip:
Click Add Explanatory to view the different options.

Section 3: ZIP Code (Paragraph 3)
This section is where you will file your ZIP code data analysis for a representative day (Monday - Friday) and Sunday (Saturday optional) within the reporting period for the main edition and any applicable affiliated publications.
a. ADD/MODIFY (Starting/editing ZIP code reporting)
Either select your Par 3 dates or edit your existing ZIP code data.
If you are selecting your paragraph 3 dates and completing the survey for the first time, click Add New Paragraph.
If you have previously entered and saved ZIP code data for this reporting period, select Edit

to make revisions to the data.
Tips:
You determine which representative daily/Sunday date(s) to use for ZIP code reporting.
Unless your publication is a Saturday-only publication, selecting a Saturday date is optional.

b. PARAGRAPH 3 SURVEY
Declare the following:
ZIP code distribution dates
Pub code
Circulation reporting categories
Upload ZIP code file option
Proration option
The main reporting circulation categories are Total Paid and Total Qualified. (Digital Replica/Nonreplica are reported as total only)
All U.S. publications may prorate ZIP code reporting if the following criteria are met:
No new circulation categories were added since your last released ZIP code report.
No new affiliated publications were added since your last released ZIP code report.
At least one reporting quarter during the audit period has been an actual paragraph 3.
Tips:
Use the calendar icon to select the ZIP code reporting dates.
Pub code may be just the initials of your publication. However, if you plan on uploading a ZIP code file, then the pub code needs to match exactly to the indicated file.

c. CIRCULATION RECORD
Click the Circulation Record tab to report your distribution by applicable Total Paid, Total Qualified, Total Digital Replica and/or Total Digital Nonreplica for the specific ZIP code for your reporting day.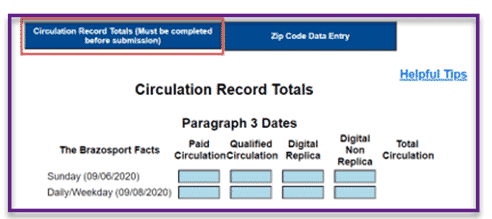 ZIP code reporting can include gross sales (returns included).
The Circulation Record Totals should match the totals in the ZIP code tab and show zero differences.

Note: Effective with the September 2020 period, news media reporting includes Total Paid and Total Qualified circulation. Total Verified is now included in the Total Qualified category. Click here for additional information.
d. ZIP CODE DATA ENTRY
Click the ZIP Code Data Entry tab to file your distribution by ZIP code for the Par 3 date(s) selected.

ZIP codes with distribution of fewer then 25 copies can be reported under Miscellaneous ZIP codes
Digital copies are reported in total only and not by ZIP code.
If you answered Yes to 'Do you Want to Prorate?' in the Pararagraph 3 Survey, then click the Calculate Proration button.

Instead of manually entering your ZIP code data, you can upload your Par 3 file. Return to the Survey Questionnaire to upload your file. Note the following upload requirements:
Par 3 file columns must follow AAM specifications. Click here for specifications.
Convert to a CSV file prior to uploading.
Do not include digital editions in the upload file. Manually enter the digital totals in the ZIP Code Data Entry tab.
Note: ZIP codes are prepopulated based on the previously released ZIP code report. You can modify ZIP code(s) by using the insert/delete buttons in the ZIP Code Data Entry tab.
e. ZIP CODE DATA SUBMISSION
Once you have completed and reviewed your paragraph 3 data, select the Ready for Submission button located in the ZIP Code Data Entry tab.

Click on the Export To Excel button at the top of the ZIP Code Data Entry tab to save a copy of the report for your records.

Once you have submitted your ZIP code data, you will need to log back into the filing tool to submit your remaining data.
Section 4: Review and Submit
This area is where you may review your data to ensure that everything is correct and ready for submission to AAM.
a. VIEW ALERTS
View and resolve any errors prior to submission. if any errors exist, an itemized list will appear. Please revisit where the error occurred and revise if necessary.
b. UPLOAD IMAGE
Upload your publication's logo to appear on the PDF report (optional). Images must be in TIFF or JPEG format.
c. PUBLISHER COMMENTS
You may enter any general comments, questions or specific details relating to your report filing to AAM staff (optional). These comments are for internal purposes only and are not published.
d. VIEW REPORT DATA
Preview your data before submission. If any changes need to be made, return to the applicable section to edit before submission.
Tip:
Click the Print Icon to either print or save as a PDF for your records.

e. FINAL STEP SUBMIT
Provide your electronic certification and signature and submit your data to AAM. The ZIP code analysis must be submitted via the ZIP code section of the filing tool. Check the box next to Date Signed to authorize submission.

For questions or additional information, please contact Sandi Licking, client solutions training manager, at 224-366-6342.