COVID-19 accommodations offer publishers flexibility.
With many businesses impacted by the COVID-19 pandemic, AAM announced several accommodations for business publications including different reporting options for age of source data. For the June and December 2021 filing periods, business publications have three options:
Continue reporting age of source with a year breakout using the analyzed issue or a second projection from the December reporting period.
Report the source of circulation but not the age
Omit age of source reporting entirely
When the Publisher Filing Center opens, publishers will select the age of source reporting section and then choose their preferred method of reporting:

Publishers reporting traditional age of source data will select the first option and proceed as normal.
Publishers reporting the source of the data, but not the age, will select option two and enter the following information: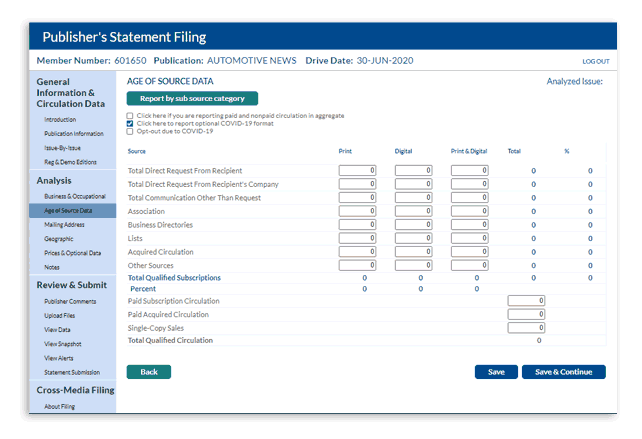 Publishers omitting age of source reporting entirely will select option three. An explanation will appear on the publisher's statement to account for the omitted data.

To learn more about the accommodations offered due to COVID-19, please review the FAQs. For questions about how to file your June and December 2021 statements, please contact Sandi Licking at 224-366-6342.